EDTA 2Na 99.0% min
Molecular Formula: C10H14N2O8Na2.2H2O
Molecular Weight: 373.2
CAS NO.: 6381-92-6
Property: EDTA disodium salt is a white powder with two crystal waters, easy to lose crystal water when dried and easy to soluble in water, but hard to soluble in organic solvents like alcohol or ethyl ether. The PH value of 5% water solution is 4-6.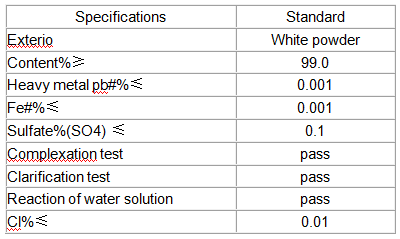 Use: Disodium salt is used in detergent,liquid soap, shampoo,agricultural chemicals,fixer solution for devclopment of colour film,water cleaner,PH modifier.When stating the redox reaction for the polymerization of butyl benzene rubber,it is used as part of activator for the compellation of ferro ion and control of polymerization speed.
Packing: 25kg net in kraft paper bag inlined with weaving cloth, and the PVC film inside.