Di ammonium phosphate
Chemical formula: (NH4)2HPO4
Molecular weight: 132.0
CAS NO.: 7783-28-0
Property: white, cry stallirt free flowing solid, density is 1.619, melting point is 155℃, soluble in water easily. PH of 1% solution is 8.0.
Specification: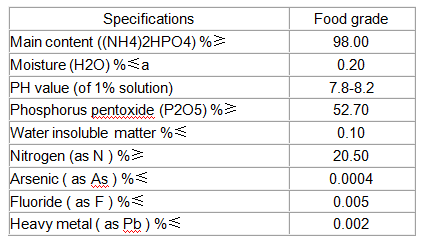 Use: For food grade it is mainly uishing agent, nourishment, and so on.
packing: plastic knit bag, net weight 25kg, in dry and airiness place.